Congresswoman Pingree's Statement on Black History Month
Congresswoman Chellie Pingree released the following history for Black History Month. 
"Black History Month is a time for us to honor the accomplishments of African-Americans, while shining a light on the work our communities must continue to do in order to address racism and  systemic racial injustice.
 
"Over the last week, I've been saddened and disturbed by attempts by the Ku Klux Klan to recruit members in Freeport and Augusta, and by a hate crime against a group of high school students in Portland. I am appalled that anyone would try to spread these hateful ideas here in Maine—however they are a painful reminder that the fight for equality is as important now as it was decades ago. I am proud that more than 200 Mainers came together last week in Freeport to speak out against racism and the KKK.
"Before slavery was abolished in 1865, hundreds of Mainers opened their homes and congregations to slaves as part of the Underground Railroad, and many more lost their lives fighting in the Civil War. During the civil rights movement, Mainers volunteered to travel to southern states to register African-Americans to vote. And today a new generation of activists are continuing to remind us that the fight for racial justice is not over. Throughout, Maine has held a proud tradition of upholding and fighting for civil rights and I am hopeful it will continue."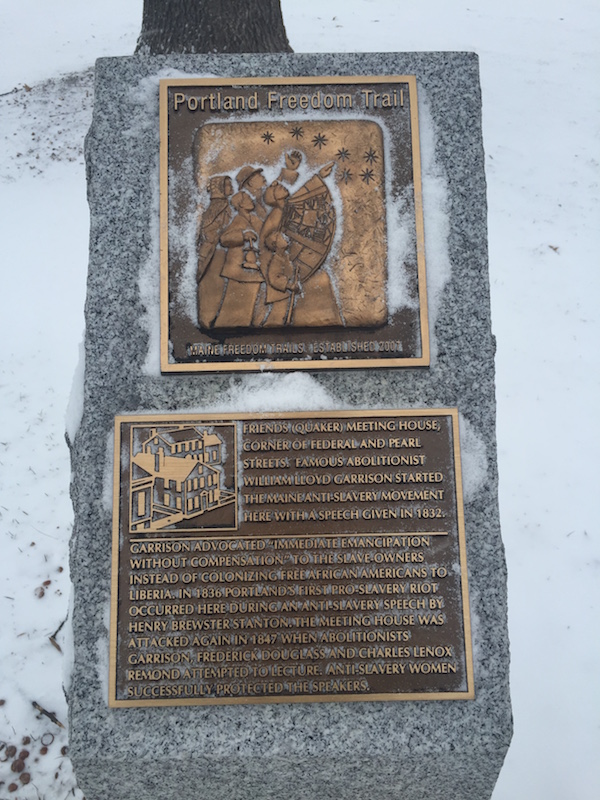 A stop along the Portland Freedom Trail, marking the former site of a church where abolitionists like William Lloyd Garrison and Frederick Douglass gave anti-slavery speeches.  Maine was a hub of the abolitionist movement.