Protecting Reproductive Rights
In Maine, we have laws that explicitly protect reproductive rights and we're fortunate that Governor Mills is committed to upholding Roe v. Wade. But in June, a deeply partisan U.S. Supreme Court overturned nearly 50 years of an established right to body autonomy.

As a member of the Pro-Choice Caucus, I have been a longtime champion of reproductive freedom, and have cosponsored and helped pass several bills in the House to protect those freedoms:

The Ensuring Access to Abortion Act (cosponsor), which would uphold a woman's constitutional right to travel for reproductive health care

The Women's Health Protection Act (cosponsor), which would establish the right to an abortion into law—legislation that has now passed the House twice

The Judiciary Act (cosponsor), which would expand the United States Supreme Court by adding four seats, creating a 13-justice Supreme Court mirroring the number of US appellate courts

The Healthcare Providers Safety Act (cosponsor), which would protect patients and abortion care providers who have faced heightened harassment and violence by anti-abortion extremists emboldened by the Supreme Court's pending challenge to Roe v. Wade.

The Right to Contraception Act, which would ensure that Americans continue to have the legal right—first recognized in the landmark Griswold v. Connecticut case–to access and use contraceptives.

More than 1,000 Mainers protest the Supreme Court decision overturning Roe v. Wade on Friday, June 24, 2022.
In September 2021, I voted with House Democrats to pass the Women's Health Protection Act (WHPA). This bill would codify Roe v. Wade into law and ensure our constitutional rights aren't limited by income or zip code. Shamefully, every House Republican voted against abortion access. Read the Women's Health Protection Act

Due to the outdated filibuster, the U.S. Senate has been unable to pass the WHPA. That's why I recently joined more than 100 of my Democratic colleagues in the House in urging the Senate to end the filibuster to pass the WHPA and protect abortion rights.

Without the WHPA, we will be looking to states to stand up for abortion care.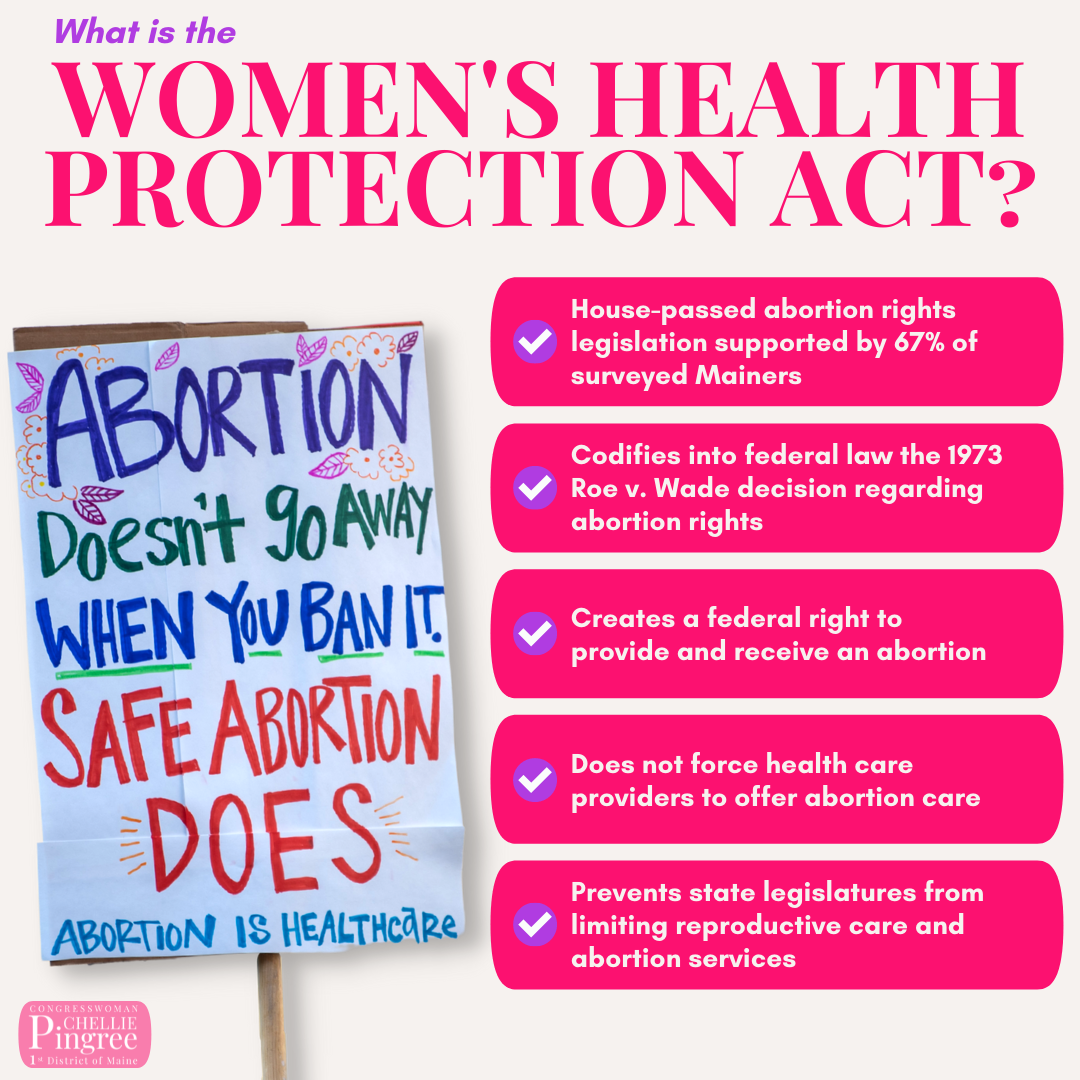 In December 2021, the Supreme Court agreed to hear a challenge to Mississippi's 15-week abortion ban, Dobbs v. Jackson Women's Health Organization. This case is a direct threat to Roe v. Wade and could end abortion access by giving the green light to anti-choice governors and legislators to enact similar draconian bans across the country.
In June 2022, the Supreme Court issued its barbaric opinion in the Dobbs v. Jackson Women's Health Organization case, ending our body autonomy and letting the government control our decision about whether to have children.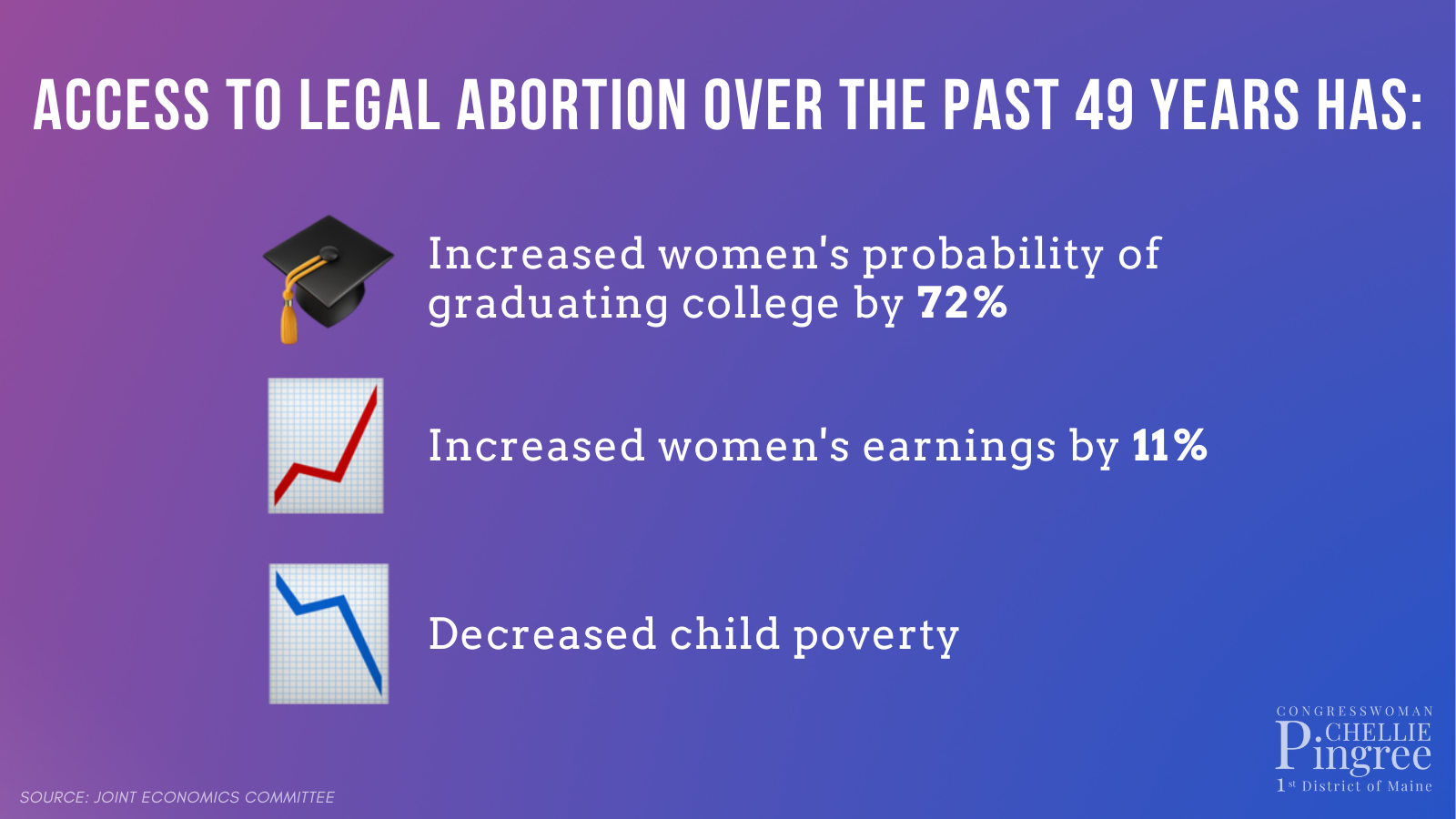 I recently sent thousands of Mainers a survey about abortion access. The results are overwhelming, but not surprising: Mainers want abortion access to remain safe and legal in the United States.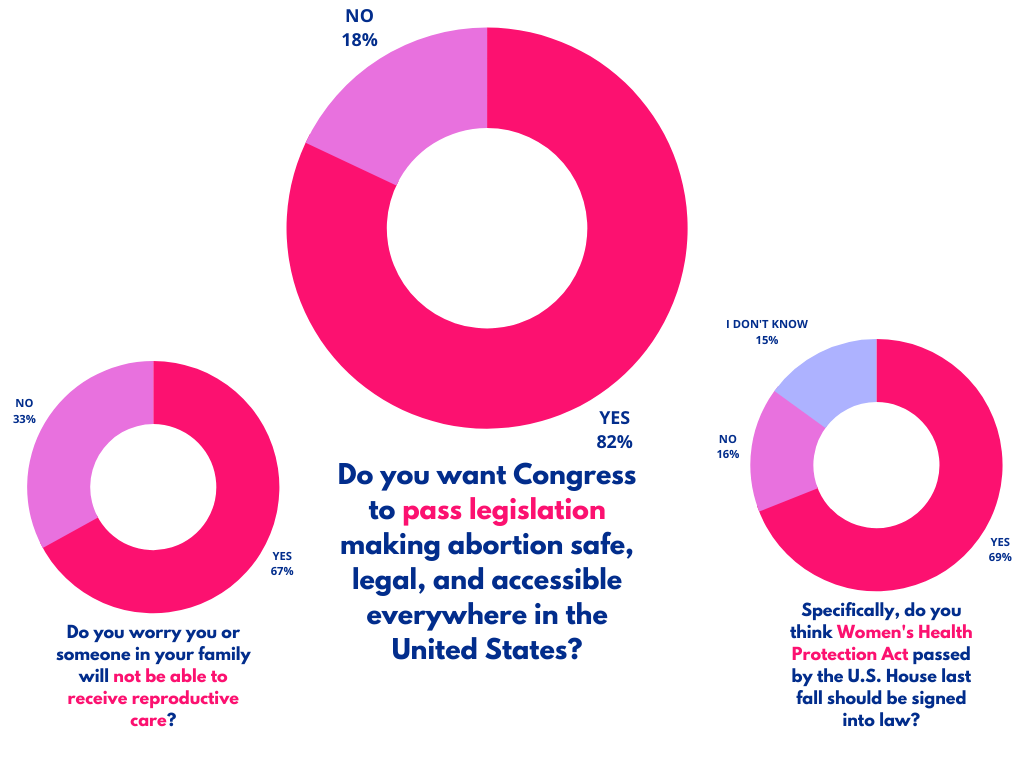 Snapshot of the survey results:
99% of respondents said they were aware of the Supreme Court's draft opinion to ban abortion access by overturning Roe v. Wade
67% of respondents said they worry they or someone in their family will not be able to receive reproductive care
82% of respondents said they want Congress to pass legislation making abortion safe, legal, and accessible everywhere in the United States
69% of respondents said they specifically think the Women's Health Protection Act passed by the U.S. House last fall should be signed into law
I was deeply moved that so many of my constituents shared stories about their complicated pregnancies and miscarriages. Their stories are no one's business, but I'm grateful they felt compelled to speak up because abortion is health care, not a political football.
Below is a sampling of the thousands of written responses I received:

"Both I and my daughter had difficult, traumatic pregnancies. I fear for both my daughters if Roe is overturned. Their health, economic status and their very lives are at risk. Not only would they not have the option of abortion, but I believe doctors would be hesitant to provide care in high-risk pregnancy cases for fear of having to deal with ramifications of miscarriages, or of treatments that resulted in any danger to the fetus."
"This is about women's rights, all of them: reproductive choice, voting, equal pay—it's an attack on women. I have lived through pre-Roe to now and I know we are going backwards fast. I fear for the right of my granddaughters and their children."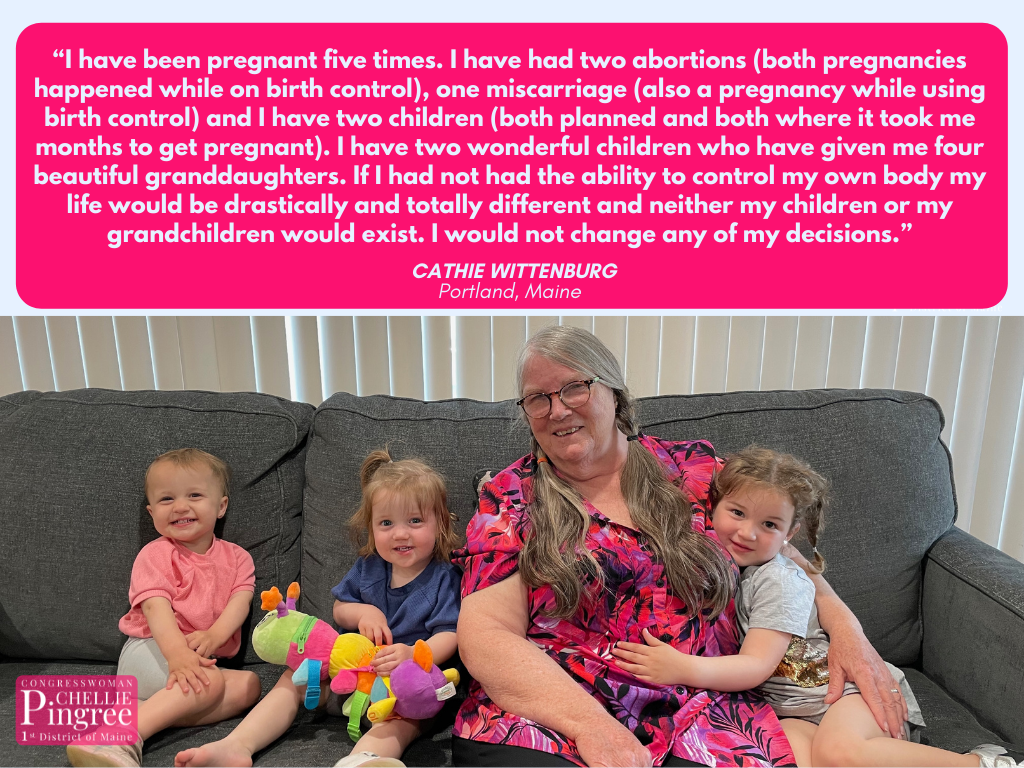 "As a man who has full control over my body women deserve the same right. Period!!"
"I am old enough to remember women dying from illegal abortions. This will be a disaster for women, men, and girls. I will haul my old body into the streets once again, to fight this effort to turn female humans into lesser beings!"
"I am an everyday wife, mother, and grandmother. I had a safe, legal abortion. I want my daughters and my granddaughters to have that same option if / when they experience and unplanned and unwanted pregnancy. Their right to choose the path to their future is what's at stake. Please do everything in your power to protect them so that they can choose the future that is right for them. Our extended family will support your work in every way we can."
While we are fortunate to have a Governor who has pledged to uphold abortion access in Maine, our reproductive rights should not be at risk every election year. Republican-led states are already creating horrific laws that would jail women for obtaining abortion care.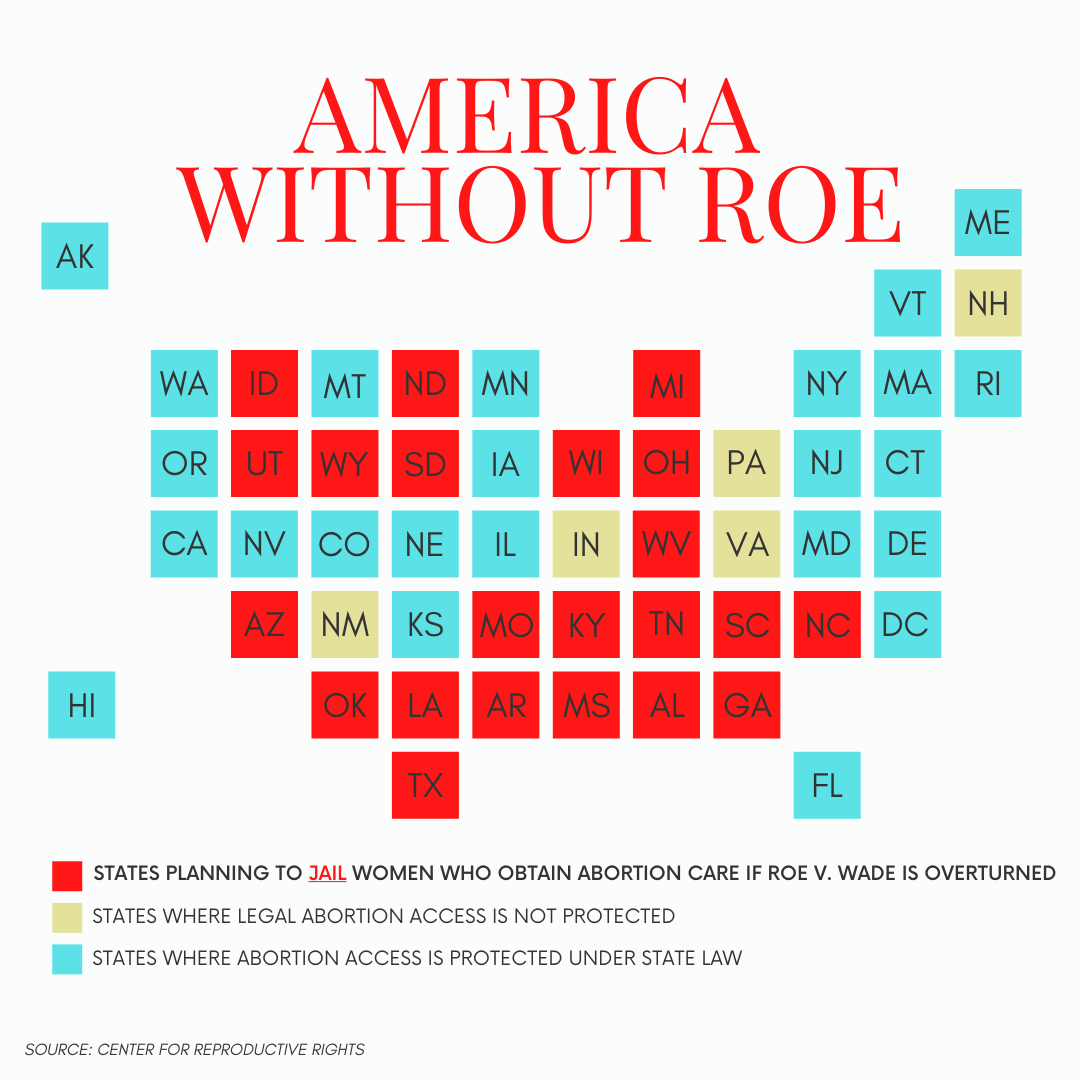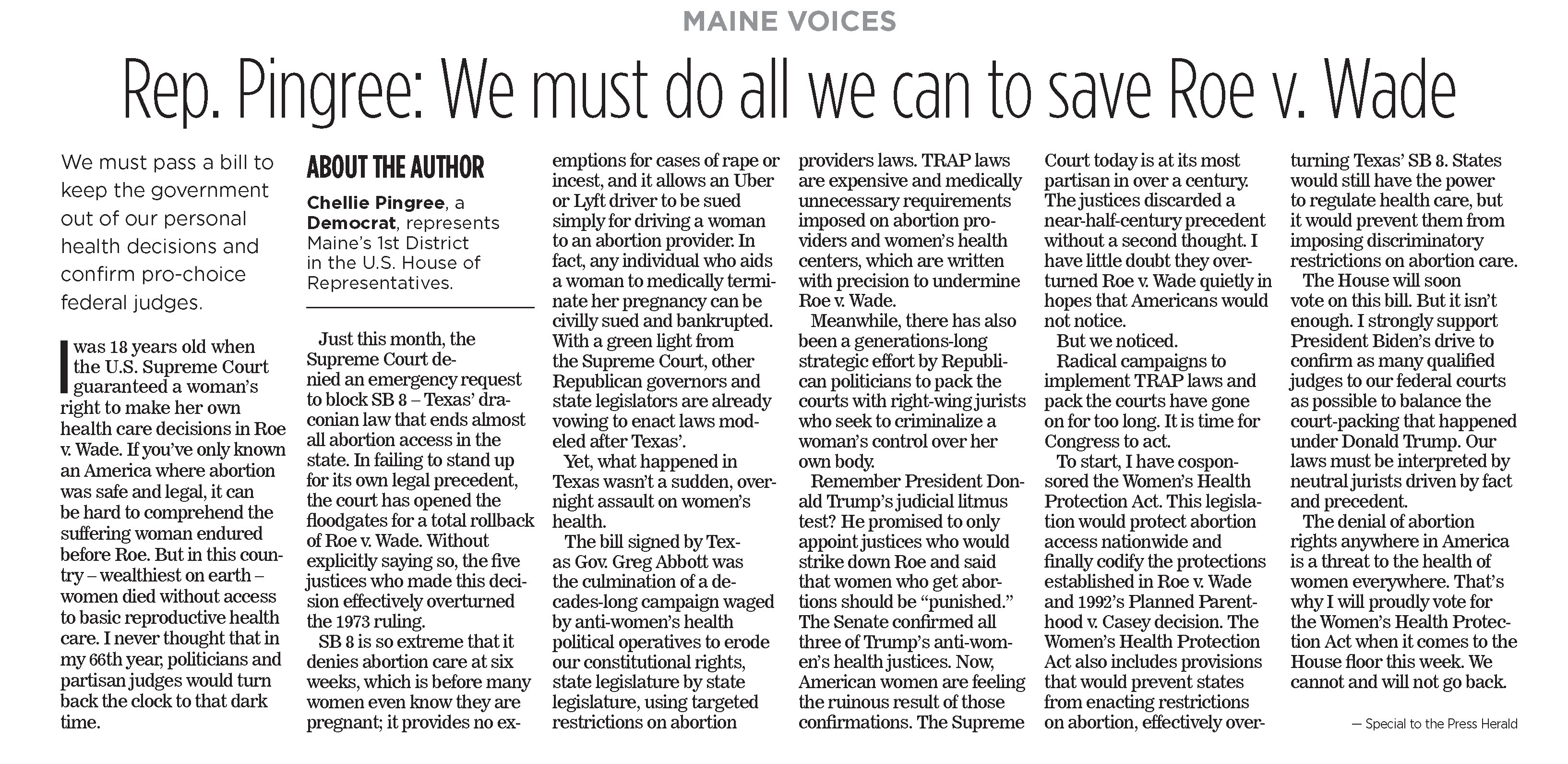 Stay Connected
Enter your email address to get the latest updates