Stories from Mainers in substance use recovery show need for greater access to treatment and support, Pingree says
Holds a roundtable at the Portland Recovery Community Center as part of her ongoing work on the opioid crisis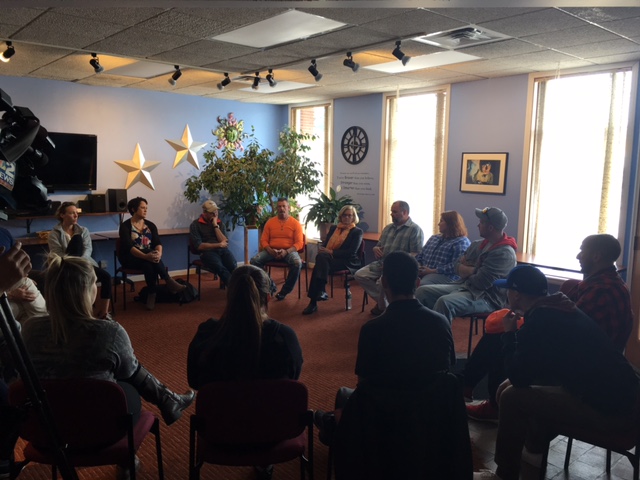 After a tour and roundtable at Portland Recovery Community Center today, Congresswoman Chellie Pingree said the stories she heard of Mainers in substance use recovery speak to the need for greater access to treatment options and follow-up support in Maine.
 
"As we continue to lose record numbers of Mainers to overdose, today's roundtable was an important chance for me to hear directly from those who struggle with substance use disorder about what resources are necessary to maintain recovery," said Pingree.  "It's eminently clear that our state needs greater access to treatment options as well as sources of follow-up support, including affordable housing, jobs, and education. I appreciate the great courage it took for these folks to share such personal stories and will take them to heart as I continue to work in Congress to get Maine the resources it needs to address this crisis."
 
A record 378 Mainers died of drug overdoses in 2016—more than one person a day on average—with 313 of those overdoses caused by heroin, fentanyl, and prescription opiates.
 
A number of systematic challenges to treatment and recovery were raised at the roundtable by people in the recovery community, including:
An inadequate number of detox beds—currently, there are only 16 for the whole state;
A lack of in-state residential treatment options;
The need for better support in the community and after-care treatment; and
Prohibitively expensive costs of after-treatment care, which isn't always covered by insurance.
 
Pingree held the roundtable at the Portland Recovery Community Center (PRCC). Recently celebrating its fifth anniversary, PRCC has offered peer recovery support and activities to thousands of Mainers, from peer recovery groups, to social events and activities. It has also engaged 600 volunteers who have donated nearly 25,000 hours of their time—including "angels" trained to support and locate services for someone who is in withdrawal and volunteers for PRCC's Telephone Recovery Support line. 
 
"We need all the help that we can get," said PRCC Program Manager Stephen Cotreau. "Federal funds are what make PRCC possible."
 
Pingree's work on the opioid crisis
 
In Congress, Pingree has advocated for fully funding federal programs to address the crisis and expand treatment. This includes $181 million for the Comprehensive Addiction and Recovery Act to create grant programs to support states in expanding access to treatment, build recovery community centers, and allow more health-care providers to dispense medications for treatment in office settings.  She also supported the 21st Century Cures Act, which authorized $1 billion in block grants to states.
 
In addition, Pingree has been a vocal opponent to the Republican plan to replace the Affordable Care Act, which is still being discussed in Congress and would have a disastrous effect on people's access to substance use treatment options. The latest iteration of the bill would cut essential health benefits for mental and addiction services, cut over 19,000 Mainers suffering from mental health or substance use disorders from the individual Marketplace, and weaken Medicaid coverage.