Blog Posts
2017: What A Year
Washington, DC, December 20, 2017
The last year has certainly been one of the most eventful—if not the most eventful—of my time in Congress. The presidency of Donald Trump has taken our country in new and frightening directions, making my work in Congress all the more important.
Throughout, I've been focused on how policy decisions in Washington and events around the nation and world impact the lives of Mainers. That's led me to oppose many negative actions taken in the last year, but also find opportunities for bipartisan victories that benefit our state. Here are some highlights from a roller coaster of a year.
--Chellie
Opposing Repeal of the Affordable Care Act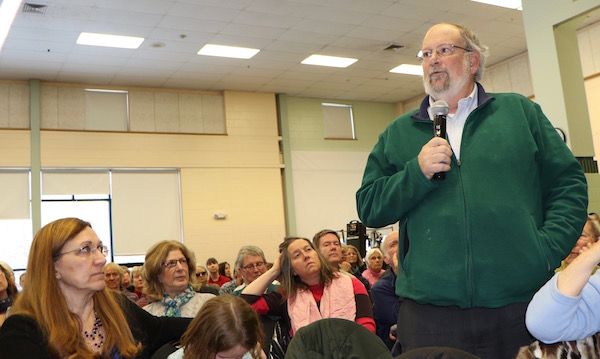 One of the first actions Republicans took in 2017 was passing a budget resolution that allowed them to repeal the Affordable Care Act with a simple majority vote in the Senate. As Trumpcare took shape—which in its various forms would have taken health-care coverage away from 22 million Americans—I hosted a town hall to get feedback from my constituents. One by one, they told me how Trumpcare would hurt them and their family.

While I'm glad the law did not end up passing, and that Maine voters approved expanding Medicaid coverage in a historic vote, I've been dismayed to see Republicans find back-door ways to weaken the ACA. The GOP Tax Scam, which repeals the individual mandate and will lead to greater numbers of uninsured and higher premiums for others, is just the latest. I will continue fighting for Mainers' access to health care in 2018.
Sitting Out President Trump's Inauguration

I hadn't planned on sitting out President Trump's inauguration, but when he belittled Civil Rights hero Representative John Lewis, I knew I couldn't attend. Instead, I spent the day with my constituents—serving breakfast at Preble Street Resource Center, meeting with Planned Parenthood staff and clients, and watching the inauguration on TV with a group of New Mainers at Portland Adult Education.
Holding President Trump Accountable
I think it's critical that we hold President Trump accountable for his words and actions. I've supported legislation to create an independent bipartisan commission—free of interference from the Trump Administration—to fully investigate Russia's hacking of our election. When he failed to denounce the violence of white supremacists in Charlottesville, I cosponsored a resolution to censure him. And I joined over 50 colleagues to call for an investigation into 17 sexual misconduct accusations made against the President.
Calling Out the Muslim Ban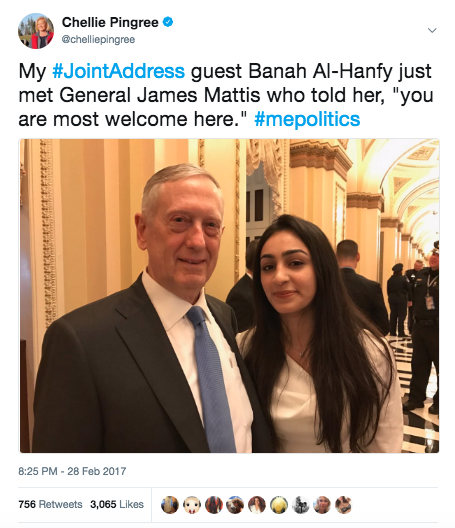 President Trump's views on immigration are simply un-American. Nothing epitomizes it more than his Muslim Ban, indiscriminately banning individuals from several Muslim-majority nations from traveling to the United States. The Administration's first attempt to implement the ban left Banah Al-Hanfy, a 19-year-old from Iraq, separated from her family, who had come to live in Maine after her father helped our military as an interpreter. Thankfully, my office was able to help community members reunite her with her family. I was lucky to have this bright young woman as my guest to President Trump's address to Congress and as an intern in my Portland office.
Questioning EPA Administrator Scott Pruitt on Climate Change

Some of the most damaging acts of the Trump Administration have been at the EPA. Administrator Scott Pruitt has led efforts to turn our back on addressing climate change, let corporate polluters rewrite the rules that are supposed to hold them accountable, and weaken the EPA overall. Through my role on the House Appropriations Subcommittee on Interior and the Environment, which oversees funding for the EPA, I was able to fight back against a proposed 30 percent cut to the agency. I also had the chance to question Pruitt directly about something that's been on my mind: what am I going to tell my grandchildren if we don't do something about climate change?
James Beard Foundation Leadership Award
It was an incredible honor to receive a James Beard Foundation Leadership Award for my work in Congress on food system reform. With this award comes a great responsibility to keep using my experience as a farmer and advocate to help shape food and agriculture policy in Congress.
Rewriting the Farm Bill
As Congress prepares to reauthorize the Farm Bill next year, I spent much of 2017 collecting input from local stakeholders and introducing legislation to influence this massive piece of legislation. The bills I introduced would:
Take comprehensive steps to reduce the incredible amount of food that goes to waste in our country (Food Recovery Act);
Increase investments in research for organic agriculture--the fastest growing sector of the agriculture industry (Organic Agriculture Research Act); and
Support smaller-scale food systems by helping farmers increase local production and widening access for consumers (Local FARMS Act)
Victories for Veterans
One of my highest priorities in Congress has always been making sure our veterans get the care and benefits they have earned. I'm happy to report several victories this year for Maine veterans. After working for years with Maine's Congressional Delegation, we were finally able to push a much-needed expansion of the Portland VA Community Based Outpatient Clinic through Congress. Legislation I introduced to help veterans who find themselves with VA debt unanimously passed the House of Representatives. And full GI Bill benefits were extended to a group of veterans who had been denied them previously—an issue I've introduced legislation to address. I've also continued to work toward making the VA claim process more fair for survivors of sexual assault in the military with the introduction of HR 1954, the Service Member and Veterans' Empowerment and Support Act.
#MeToo
I'm so proud of the brave women across the country who are shining a light on the sexual harassment and assault they routinely face. It's time we keep Congress and the White House accountable as well, which is why I have cosponsored legislation to require sexual harassment training for Members of Congress and their staffs, reform processes to make victims feel safer when speaking out, and to end a secret taxpayer fund that has been used to settle Congressional harassment cases. I've also called for an investigation into claims of sexual misconduct against President Trump.
Gun Violence
I wish there was something positive to report on this important issue, but there is not. In the last year, our nation has faced many senseless tragedies from gun violence (334 mass shootings as of late December), yet Congress has done nothing--absolutely nothing--to address it. I will continue pushing for common sense reforms in the new year.
GOP Tax Scam

One of the "highlights" from the year is unfortunately a "lowlight." Congress has passed the Republican tax plan—a giveaway to massive corporations and the wealthiest of the wealthy. It won't offer true relief to the middle class, but instead raise taxes on many and threaten cuts to programs we all depend on, like Medicare and Social Security. After speaking with a group of Mainers who would be harmed by the plan, I spoke out with my opposition.
Incredible Level of Constituent Engagement

One thing I am truly grateful for in 2017 was the incredible level of engagement from my constituents, who are tuned in to Washington's dealings like never before and letting their opinions be known. In 2016, constituents called, emailed or mailed their opinions to my office 50,771 times. So far in 2017, that number is 135,262--nearly three times as many! I truly appreciate everyone's feedback. Please keep your comments coming and have a happy new year.
Stay Connected
Enter your email address to get the latest updates