Press Releases
Pingree Wraps Up 2nd Day of Week-Long Congressional Fact-Finding Mission in Poland as Ukraine Crisis Continues
The bipartisan trip to Eastern Europe continues through Thursday. Click here for photos and videos from Poland.
POLAND—Congresswoman Chellie Pingree (D-Maine) and a bipartisan group of five U.S. Representatives today wrapped the first leg of their week-long fact-finding mission in Eastern Europe amid the ongoing humanitarian crisis in Ukraine. The group just spent two days in Poland meeting with U.S. and NATO forces on the ground. While in Poland, members visited the U.S. Embassy in Warsaw; met with U.S. troops, including 82nd Airborne servicemembers from Maine; received multiple briefings on NATO efforts to support Ukraine; and visited a border entry point at the Przemyśl train station. The group will visit additional European countries through Thursday.
"I was so moved by President Zelenskyy's heart-wrenching address to Congress last week, and he's absolutely right: We can, and we must, do more to support Ukraine in their fight," said Congresswoman Pingree. "We're here so we can come back home with answers for our constituents by getting first-hand information from people on the ground. We will be able to better explain how our efforts to support Ukraine and our NATO allies are being implemented, and most importantly, we are learning what more can be done."
During a site visit to the World Central Kitchen meal preparation site in Przemyśl, Poland, Pingree met up with Yarmouth, Maine-based chef Christian Hayes. Hayes and the team of chefs who have volunteered in the relief kitchen, located just a few miles from the Ukraine border, cook 100,000 meals a day for the thousands of Ukrainians crossing the border.
"It's people like Christian who make me proud to be a Mainer. He dropped everything to come help the people of Ukraine during this ongoing tragedy," Congresswoman Pingree said. "By contributing his skills as a chef, he's helping feed tens of thousands of hungry Ukrainians daily, and it was inspiring to see his efforts with World Central Kitchen up close."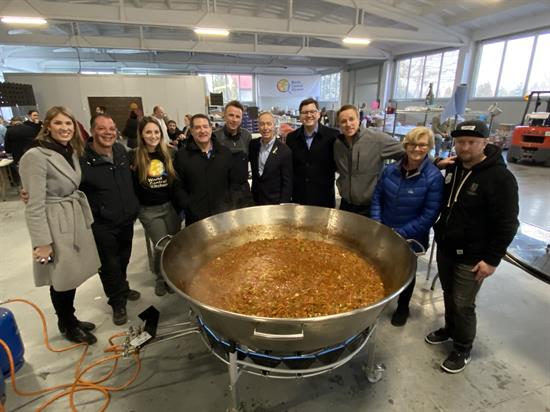 Due to security concerns, further details about the trip cannot be released at this time.
The Biden Administration has now committed $2 billion in security assistance to Ukraine since taking office. Over the past two weeks alone, the United States has delivered more than $1 billion indirect equipment transfers from the Department of Defense to the Ukrainian military.
Pingree voted with the House to pass the Fiscal Year 2022 Appropriations package, which included $13.6 billion in humanitarian and security aid to Ukraine. This included $300 million for the Ukraine Security Assistance Initiative and $300 million for allies and partners in the region, as well as $6.8 billion in humanitarian, economic, and security assistance for Ukrainians.
###
Stay Connected
Enter your email address to get the latest updates