Blog Posts
"Sometimes by sitting down, you're really standing up"
Stories from the House floor sit-in to protest lack of action on gun violence
Washington, DC, July 21, 2016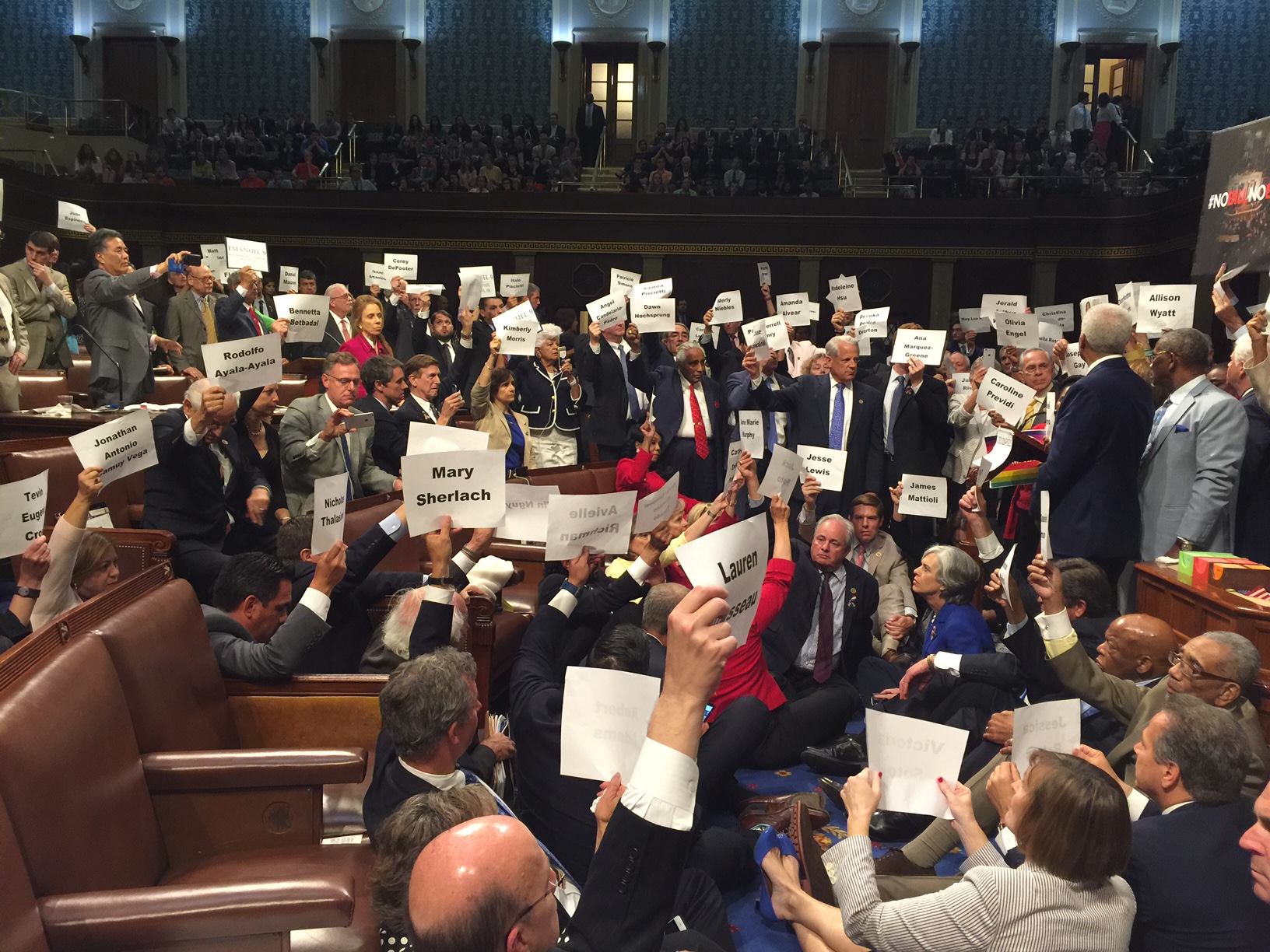 Each time there's a mass shooting, citizens across the country have a conversation on how to keep the next one from happening and how to keep guns out of the hands of people who want to commit violence.
The nation holds this conversation at the dinner table, on the Internet, and in many other places. But it doesn't happen in one place where it absolutely should—the halls of Congress.
Mass shootings have happened with such frequency in recent months that the House of Representatives now has a standard procedure for holding moments of silence. Yet the House Republicans won't allow any debate on legislation to address gun violence, even for something as commonsense as preventing suspected terrorists from purchasing firearms.
In the wake of the recent shooting in Orlando—where a lone gunman armed with an assault rifle killed 49 innocent people—my Democratic colleagues and I decided that enough was enough. If Speaker Ryan wouldn't sanction a conversation on the House floor, we would hold one anyway.
The proceedings on June 23 began like any other, with 5-minute speeches on a variety of topics. I joined several Democratic colleagues to speak about the toll gun violence has taken on our country, of which mass shootings are just a small part. Shootings claim American victims of all ages and ethnicities, and occur many, many times more often than in other developed countries.
As legislative business was about to begin, we announced that we would sit on the House floor and not leave until the House debated closing the terrorist gun loophole.
We ended up occupying the floor for over 24 hours. Providing guidance and leadership during that time was Representative John Lewis from Georgia. He was a top leader in the 1960s civil rights movement and led lunch-counter sit-ins, Freedom Rides, and the famous voting rights march across the Edmund Pettus Bridge in Selma, Alabama. As he told us, "Sometimes by sitting down, you're really standing up."

We were able to teach him about something, too—Periscope. When the GOP tried to silence us by shutting off the C-Span cameras, this live-streaming app on our smartphones made it possible to show the country that we weren't going anywhere.
I got to see a different side of my colleagues that day. Unbound by parliamentary procedure, we stood up to share emotional stories of gun violence in our Districts. I talked about Darien Richardson, a 25-year-old woman who was shot and killed in Portland one night. The police were never able to find her killer because the gun used in her murder—and then another—was purchased through an unregistered sale. I shared a message from her parents, who said, "She might not be dead if there was a background check."
Other Representatives told stories from their own lives. Jackie Speier held up the bullets that doctors pulled from her body after being shot during the Jonestown Massacre. Debbie Dingell spoke about how her own father had once held a gun to her head. Donna Edwards read a letter from our former colleague Gabby Giffords, who was shot while meeting with her constituents in 2011.
The Speaker held a vote in the middle of the night to end proceedings for the week. But bolstered by boxes of pizza that people across the country had ordered for us, we stayed on the floor through the night and into the morning.
Since coming home, I've been asked what our sit-in accomplished. After all, the Speaker still hasn't held a vote on gun violence—instead, he is considering reprimanding me and my colleagues for using smart-phones to broadcast our sit-in.
But, yes, it was worth it. Our sit-in has ended—for now, at least—but our commitment to meaningful action is stronger than ever. And, for a time, we were able to have the conversation America has been begging Congress for. We showed our constituents that we were listening and that we would not let Congress go about business as usual in the midst of a national crisis.
As Representative Lewis said to start our sit in, "We have been quiet for too long. There comes a time when you have to say something. When you have to make a little noise. When you have to move your feet. This is the time. Now is the time to get in the way. The time to act is now. We will be silent no more."
Stay Connected
Enter your email address to get the latest updates