Press Releases
Pingree to LePage: Drop Lawsuit Revoking Patient Pre-Existing Condition Protections
Washington, DC, November 1, 2018
MAINE– This week, Congresswoman Chellie Pingree (D-Maine) led 45 Members of Congress in writing to Governor Paul LePage and urging him to drop his support for Texas, et al v. U.S., et al. LePage is one of two Republican Governors and 18 Republican State Attorneys General who have backed a federal lawsuit to nullify protections for Americans with pre-existing conditions under the Affordable Care Act.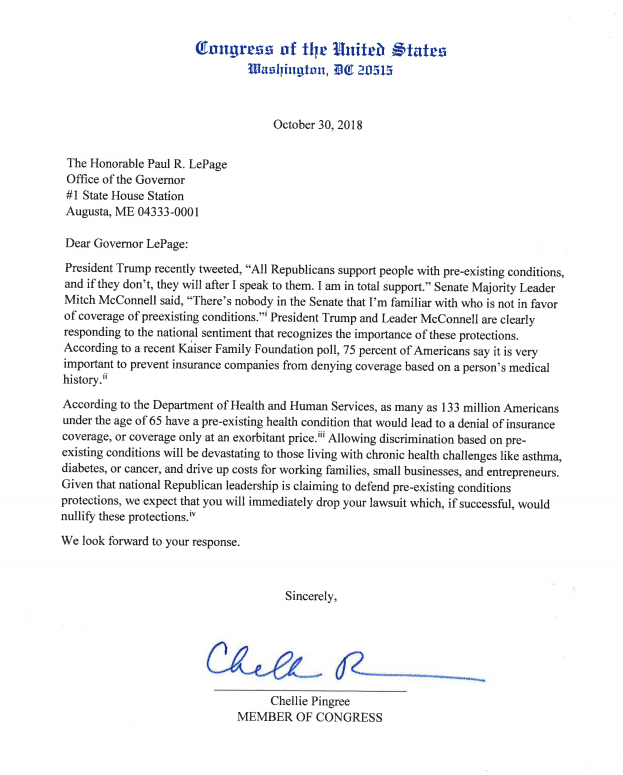 Pingree's member letter to LePage was sent today along with others to 18 Republican State Attorneys General and Wisconsin Governor Scott Walker, who are also backing the Texas, et al v. U.S. lawsuit.

The text of the letter to Governor LePage is below and a signed copy can be found here.
October 30, 2018
The Honorable Paul R. LePage
Office of the Governor
#1 State House Station
Augusta, ME 04333-0001
Dear Governor LePage:
President Trump recently tweeted, "All Republicans support people with pre-existing conditions, and if they don't, they will after I speak to them. I am in total support." Senate Majority Leader Mitch McConnell said, "There's nobody in the Senate that I'm familiar with who is not in favor of coverage of preexisting conditions." President Trump and Leader McConnell are clearly responding to the national sentiment that recognizes the importance of these protections. According to a recent Kaiser Family Foundation poll, 75 percent of Americans say it is very important to prevent insurance companies from denying coverage based on a person's medical history.
According to the Department of Health and Human Services, as many as 133 million Americans under the age of 65 have a pre-existing health condition that would lead to a denial of insurance coverage, or coverage only at an exorbitant price. Allowing discrimination based on pre-existing conditions will be devastating to those living with chronic health challenges like asthma, diabetes, or cancer, and drive up costs for working families, small businesses, and entrepreneurs. Given that national Republican leadership is claiming to defend pre-existing conditions protections, we expect that you will immediately drop your lawsuit which, if successful, would nullify these protections.
We look forward to your response.