Press Releases
Pingree Selected to Serve on Board Advising National Endowment for the Arts
Washington, DC, October 26, 2017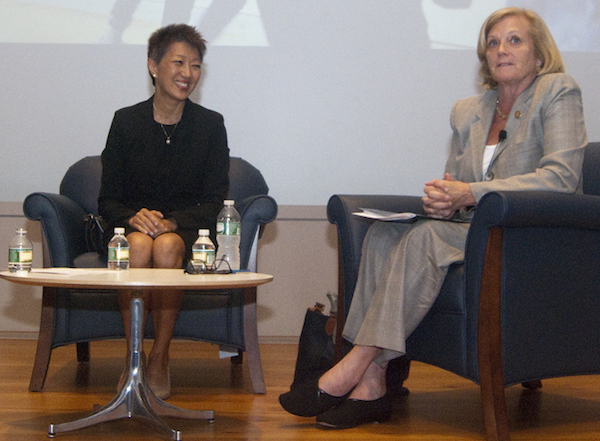 Congresswoman Pingree with NEA Chairman Jane Chu at a 2015 event in Portland.
Congresswoman Chellie Pingree (D-ME) has been selected as an ex-officio member of the National Council on the Arts, which advises the National Endowment for the Arts on its grant programs and other priorities. She will participate in her first meeting with the council later today.
"The National Endowment for the Arts plays a pivotal role in supporting the arts and creative economy in Maine. It's an honor to help advance the NEA's work through the National Council on the Arts," said Pingree. "The public investments we make in the arts are important not just for our culture, but for jobs and the economy. As a member of the House Appropriations Committee, I've been proud to advocate for that funding and tout what it's made in possible in Maine—from arts exhibitions in Rockland to film festivals in Waterville. I'm excited to use my experience as a Member of Congress to help strengthen the NEA's efforts however I can."
Pingree is one of two non-voting Members of Congress currently serving on the council—the other is Senator Tammy Baldwin (D-WI).
The major areas in which the Council advises the agency and its Chairman are:
• Applications for Federal grant funds recommended by advisory panels;
• Guidelines outlining funding categories, objectives, and eligibility;
• Leadership initiatives and partnership agreements with other agencies;
• Agency budget levels, allocations, and funding priorities;
• Policy directions involving Congressional legislation and other issues of importance to the arts nationally; and
• Recommending individuals and organizations to receive the National Medal of Arts
Pingree—Dedicated Advocate for the Arts
Pingree has long been recognized as an advocate for the arts in Maine and the NEA. She has hosted the last two NEA Chairmen—Rocco Landesman and Jane Chu—on visits to Maine to see NEA funds in action.
As a member of the House Appropriations Subcommittee on Interior and the Environment, which oversees funding for the NEA, she worked with colleagues to protect funding for the agency that had been zeroed out in President Trump's budget proposal.
Stay Connected
Enter your email address to get the latest updates