Press Releases
Reps. Pingree, Hanna lead bipartisan push to restore federal funding for pre-school programs
18 states use grants to make preschool affordable for thousands of families
Washington, DC, November 20, 2015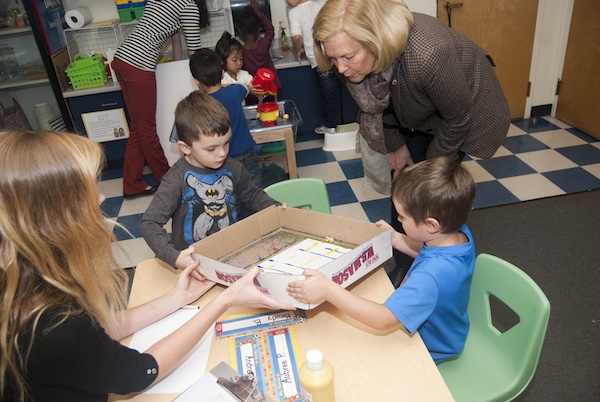 Earlier this year, Congresswoman Pingree visited a preschool in Old Orchard Beach that has been able to expand its programming and enrollment with support from a federal program she is fighting to restore funding for.
In a bipartisan letter, Representatives Chellie Pingree (D-Maine), Richard Hanna (R-New York), and 61 of their Republican and Democratic colleagues urged the leadership of the House Appropriations Subcommittee on Labor, Health and Human Services, and Education to restore funding for the federal Preschool Development Grant program. Funding has been eliminated in recent drafts of the House and Senate appropriations bills.
"Early childhood education benefits children for years afterward, but it's just too expensive for many families," said Pingree. "This grant program is critical in helping states and local communities offer high-quality preschool education to more students who may not be able to access it otherwise. I've had the chance to visit classrooms that are supported by this program and parents rave that it's made a big difference for their children. I hope funding will be restored so even more students can benefit."

"I fully support restoring this critical funding for our youngest learners," Hanna said. "Early childhood education helps make our nation become more competitive and ensures that each child has the opportunity to reach his or her full potential. One in four children starts their life in poverty. Through education, we can ensure their lives do not end in poverty."

Preschool Development Grants provide funds to build and expand public preschool programs in high-need communities—it extends enrollment to children in families whose incomes are too high for Head Start but would not likely be able to afford private preschools. The grants are matched with funds on the state and local level.

Currently, 18 states are using the grants to give 33,000 four-year-olds access to programs that make use of evidence-based curricula and practices. An additional 60,000 children are expected to be served during the third and fourth year of the grant, but will miss out if funding is eliminated.

Research shows that every dollar spent on evidence-based prekindergarten provides a $7 to $10 return on investment by reductions in remedial education, juvenile delinquency, and teen pregnancy, and increases in workforce readiness.
Stay Connected
Enter your email address to get the latest updates