Press Releases
At forum held by Congresswoman Pingree, many voices express importance of federal hunger programs to Maine
Washington, DC, March 20, 2017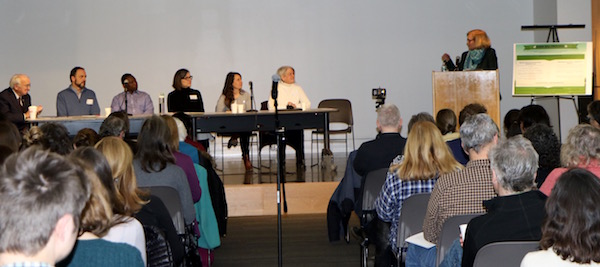 After holding a Health Care Town Hall on Sunday evening, Congresswoman Pingree convened another public forum early Monday morning in Portland—this one focusing on hunger and nutrition programs in the Farm Bill. Over a hundred people attended to ask questions and hear from Pingree on the upcoming reauthorization of the Farm Bill and the effects Trump's proposed budget could have on federal hunger programs.
"We like to think that none of our neighbors goes hungry in Maine. But the truth is our state ranks ninth in the nation and first in New England for food insecurity—1 in 4 children and 1 in 7 seniors don't have reliable access to enough food," said Pingree. "There is great work being done in our communities to fill that need, but they can't do it on their own—federal programs play an absolutely vital role. I've always worked to defend these effective programs from attempts in Congress to weaken them, and Trump's proposed budget will mean I will have to fight even harder. His 29 percent cut to USDA and elimination of key programs would be devastating to families in need and rural America as a whole."

Pingree was introduced at the event by former USDA Under Secretary for Food and Nutrition Kevin Concannon, a native Mainer. They were joined by a panel of leaders who utilize federal programs to address food insecurity in Maine.

· Cecily Upton, Vice President of Innovation at FoodCorps
· Mary Zwolinski, Executive Director of Wayside Food Programs
· Penny Jordan, owner of The Farm Stand at Jordan's Farm in Cape Elizabeth
· Jim Hanna, Cumberland County Food Security Council
· Muhidin D. Libah, Somali Bantu Farming Project

Video from the event

Many other Maine organizations spoke in support of the hunger and nutrition programs in the Farm Bill.

"The nutrition programs in the Farm Bill, especially SNAP, are vital for the health and wellbeing of Mainers. SNAP provides four times as many meals each year as the food bank and our network of local partners," said Kristen Miale, Executive Director of Good Shepherd Food Bank. "If SNAP is cut, charity food assistance programs will not be able to increase services enough to meet the need, and more people will go hungry."

"At Preble Street, we see first hand what hunger looks like and what it means that Maine has the third worst rate of hunger in the nation. Families, veterans, older adults line up every day at our soup kitchens and food pantry to get by," said Mark Swann, Executive Director of the Preble Street Resource Center. "The SNAP program, funded by the Farm Bill, is absolutely crucial to reduce our shamefully high hunger rates. When we started this work in the 1970s, SNAP had virtually eliminated hunger in America. We must preserve and strengthen SNAP in the Farm Bill to put a stop to our hunger emergency in Maine."

"The programs funded by the Farm Bill are of great importance to people we work with at Midcoast Hunger Prevention Program and throughout the midcoast area. MCHPP receives over 40,000 pounds of food per year from the Emergency Food Assistance Program, which is then redistributed to people in need," said Mary Turner, Food Security Council Coordinator at Midcoast Hunger Prevention Program. "Many of our clients use their SNAP benefits to purchase food within their communities and support their local economy. Senior Farmers' Market Program and Commodity Food Supplemental Program help our seniors to have adequate and healthy food. Reducing the funding to these programs will mean a drastic reduction in food for many people who are already struggling with food insecurity and hunger and could put further strain on food banks in our communities."

Last reauthorized in 2014, the Farm Bill contains a number of programs that address hunger and nutrition needs. The largest is Supplemental Nutrition Assistance Program (SNAP—formerly food stamps)—14 percent of Mainers receive SNAP benefits, on average $116 per person per month. Others programs help stock local food banks, supply nutritious commodity foods to families in need, provide assistance for seniors to purchase food at farmers markets, and more.

As Congress prepares to reauthorize the Farm Bill again in 2018, Pingree—a member of the House Appropriations Subcommittee on Agriculture—has held a series of listening sessions in Maine to get feedback on the legislation. She held one in November on local agriculture and another in December on the dairy industry.
Stay Connected
Enter your email address to get the latest updates