Press Releases
Urging Air Force to address REAL ID issue that could prevent veterans from accessing health care
500 Maine veterans notified that they will no longer be able to use Maine driver's license to access clinic at Pease Air National Guard Base in New Hampshire
Washington, DC, December 22, 2016
Congresswoman Chellie Pingree sent a later today urging the U.S. Air Force to help address a REAL ID issue that could prevent hundreds of Maine veterans from continuing to receive their health care at a Veterans Affairs (VA) clinic on Pease Air National Guard Base in Newington, New Hampshire. Pingree was joined on the letter by Congresswoman Ann McLane Kuster of New Hampshire.
The 500 Maine veterans who receive their primary health care at the Community Based Outpatient Clinic on the base were recently notified that, after February 1, their Maine driver's license and VA health care ID will no longer be sufficient to gain access to the base. The change in policy comes as the REAL ID Act is implemented—Maine driver's licenses are not yet compliant with the law.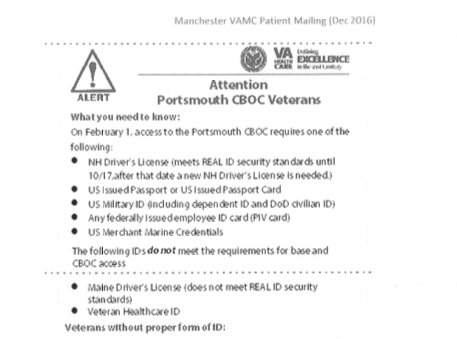 "I've heard from many veterans who are concerned about not being able to see their doctors when this change goes into effect. They don't want to have to jump through yet another bureaucratic hoop to get the health care they have earned—and I don't think they should have to," said Pingree. "Thankfully, it is within the Air Force's authority to make an exception for veterans like them. After hearing about how these veterans will be affected, I hope the Air Force acts quickly to resolve the issue."
Department of Homeland Security guidelines state that after January 31, 2017, visitors to military bases must present a REAL ID-compliant form of identification—such as a passport—or a driver's license from a state that has received an extension. Maine's latest request for an extension was denied and New Hampshire's current extension is set to expire next October. Veterans from other non-compliant states are facing a similar situation.
In response, the Department of Defense issued follow-up guidance allowing an exception for those accessing VA health care on base. Under the exception, the combination of a driver's license and a VA Health Identification Card would be enough to gain access.
The notification sent to Maine veterans can be seen here.
Letter Text
The Honorable Deborah Lee James
Secretary
United States Air Force
1690 Air Force Pentagon
Washington, DC 20330-1670
Dear Secretary James,
We write to you to highlight an issue that is rapidly approaching for hundreds of Maine veterans who receive care at Pease Air National Guard Base in Newington, NH.
Currently, 500 veterans in Maine receive care at the Community Based Outpatient Clinic (CBOC) located on the base. Unfortunately, due to the REAL ID implementation and the State of Maine not yet being in compliance with that law, these veterans anticipate an issue gaining access to the base to access this care. We are familiar with this particular case, but there are several other bases throughout the country facing a similar issue.
Department of Homeland Security guidance states the following:
"Starting January 31, 2017, visitors seeking access to military bases and almost all Federal facilities using their state-issued driver's licenses or identification cards must present proper identification issued by REAL ID compliant states or a state that has received an extension. When planning a visit to a Federal facility or military base, visitors should contact the facility to determine what identification will be accepted."
In light of this guidance, it is our understanding that the U.S. Department of Defense (DOD) issued follow-up guidance outlining a REAL ID exception for those entering a DOD installation to access VA health care on base. Under this guidance, veterans looking to access the base can do so with the combination of a state drivers license and a Veteran Health Identification Card Issued by the US Department of Veterans Affairs (VA).
We urge the Air Force to adopt this DOD guidance and allow Veterans access to installations like Pease Air National Guard Base with their VA Health Identification Card.
It is imperative that veterans are allowed to receive the health care they deserve on joint military installations without undue complications due to the REAL ID law and the related federal regulation.
Thank you for your work on behalf of our servicemembers and for your attention to this critical matter. I look forward to hearing from you.