Press Releases
Joining Biden on First Presidential Visit to Maine, Pingree Says 'Bidenomics' Directly Linked to State's Strong Economic Growth
AUBURN, Maine, July 28, 2023
Congresswoman Chellie Pingree (D-Maine) joined President Joe Biden in Auburn, Maine as highlighted how Bidenomics and his Investing in America Agenda are revitalizing manufacturing and bringing investments and jobs to communities, including those too often been left behind. Pingree, along with Senator Angus King (I-Maine) and Congressmen Jared Golden (D-Maine) traveled on Air Force One from Washington, D.C. to Brunswick, Maine for Friday's events, before heading to Auburn Manufacturing Inc. (AMI), a textile manufacturer experiencing double-digit growth as a result of the President's Investing in America agenda, where he delivered remarks. While at AMI, President Biden signed an Executive Order to prioritize America's policy of "invent it here, make it here"—to the benefit of American workers, communities, and global supply chain resilience. The order boosts the incentive to manufacture new inventions in the United States when those inventions are developed using taxpayer dollars.
"The growth we're seeing in Maine is a direct result of President Biden and House Democrats' bold economic agenda to revitalize domestic manufacturing and invest in American workers. At Auburn Manufacturing Inc. today with the President, we highlighted just how impactful Bidenomics has been and how the Biden Boom is benefiting our communities," said Pingree. "The President's new Executive Order expands on the historic investments championed by Democrats in the historic Infrastructure Investment and Jobs Act, the CHIPS and Science Act, and the Inflation Reduction Act to strengthen our economy through innovation and American-made technology. It was an honor to join the President in our great state today. I couldn't be more hopeful for the future we're forging together for the people of Maine."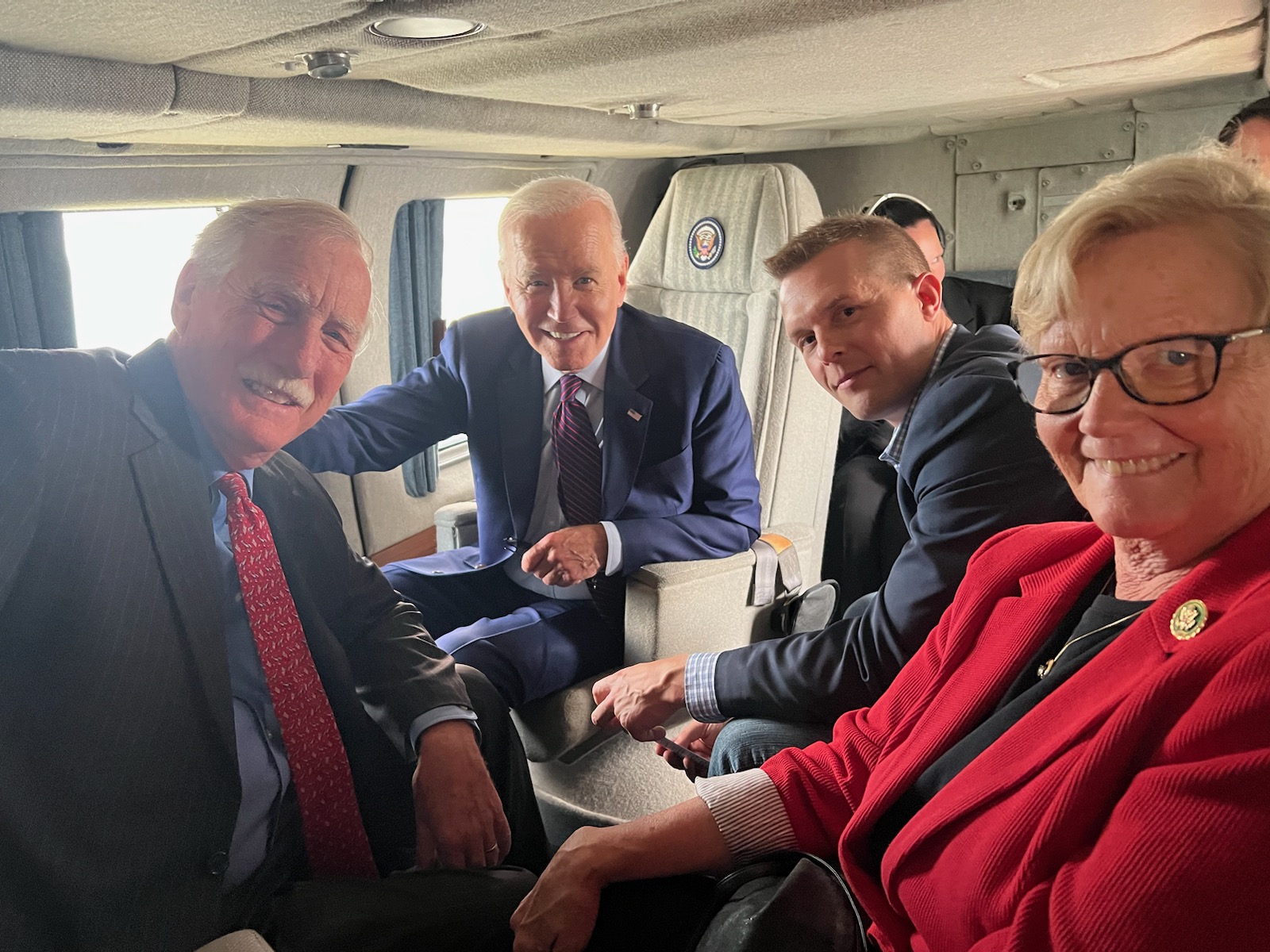 From left: Senator Angus King (I-Maine), President Joe Biden, Congressman Jared Golden (D-Maine), and Congresswoman Chellie Pingree (D-Maine) fly in a helicopter to Auburn Manufacturing Inc. Click here to download photos.
President Biden's visit to Auburn comes one day after the Bureau of Economic Analysis announced that the economy grew by 2.4 percent in the second quarter of 2023. After a year of recession predictions, the economy grew steadily while inflation fell significantly. Business investment increased by nearly 8%, and construction of factories contributed more to growth than it has in 40 years. Last week, Morgan Stanley credited the President's economic polices for driving 'much stronger' than expected economic growth – specifically citing this Administration's infrastructure growth and the historic strength of manufacturing construction.
Between 1990 and January 2021, Maine lost 42,200 manufacturing jobs, a 44% decline in manufacturing employment. The state's textile and apparel industries were even harder hit, contracting roughly 60% between 1997 and 2019. Since January 2021, however, overall unemployment in Maine has fallen to a record low and the state has created roughly 1,200 new manufacturing jobs. The Biden-Harris Administration has announced $1.5 billion worth of infrastructure and clean energy projects in Maine. Private companies have announced hundreds of millions of dollars in additional investments.
###
Stay Connected
Enter your email address to get the latest updates