Press Releases
Pingree Applauds Improved Hospital Rating at VA Togus
Washington, DC, October 3, 2018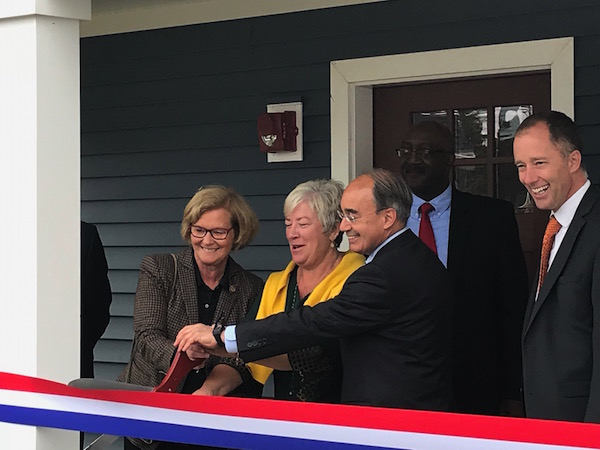 Congresswoman Pingree attending Cabin in the Woods ribbon cutting at VA Togus campus with Rep. Bruce Poliquin on September 21.
Congresswoman Chellie Pingree (D-ME) today congratulated VA Togus today on its latest hospital rating, receiving 5 out of 5 stars in a Department of Veterans Affairs report that categorized the score as a "Great Improvement" over the previous year.
"I applaud the staff at VA Togus on all the work that went into improving their quality care rating over the last year. This new score is a testament to their commitment to providing our state's veterans the best care possible," said Pingree. "While I am encouraged to see improved results at other VA hospitals across the country as well, Congress must not let up in providing the oversight, accountability, and resources needed to continuously strengthen veteran care."
About the VA's Scoring System
Veterans Health Administration uses a comprehensive performance improvement tool called Strategic Analytics for Improvement and Learning (SAIL) that includes key metrics used by the private sector as well as additional metrics that are important for addressing access to care, quality of mental health care, employee perception about the organization, nursing turnover, efficiency and capacity. Each VA medical center is assessed for overall quality from two perspectives: (1) Relative Performance compared to other VA medical centers using a Star rating system from 1 to 5 and (2) Improvement compared to its own performance from the past year.